Facing such an unfavorable context to showcase products and highlight online gaming promotions, Codere.es leverages creativity and partners with the latest release from the MGA Games slot factory, "Mask Singer," to create a dedicated section on its website and capitalize on the popularity of the celebrity music contest that is a big hit in Spain.





The focus on localized products and international expansion has made
MGA Games
one of the most relevant online gaming providers in the regulated markets of Europe and Latin America.
And two of their most recent releases are based on two outstanding television shows: La Voz (The Voice) and
Mask Singer
.
Although many titles in the Spanish Celebrities collection feature national television stars (Aura Ruiz as Diosa Jade, Makoke as Caza Espíritus, Sofía Cristo as Misterio en el Circo, Canales Rivera as La Feria de Abril, Mario Vaquerizo as Aventura Pirata, etc.), having the most popular music show on TV has allowed CODERE.ES to give "MASK SINGER" a prominent space on their website, making this 3-reel slot with 8 mini-games the most visible gaming product in their current offering.
Mask Singer is a slot game that recreates some of the distinctive elements of the popular television program, in which various celebrities sing disguised, and a panel of judges must guess who is behind the mask.
It is a premium slot with 3 reels filled with prizes, a triple-view design for total immersion, and themed symbols that make us feel like part of the competition.
In this way, MGA Games not only demonstrates that the success of their localized products can complement an excellent selection of slots from top national operators, but their games can even become absolute protagonists when it comes to capturing the attention of the audience browsing the website of a well-known brand like Coderer.es.
Thus, the phenomenon of the Mask Singer television show, a format that has managed to capture the attention of millions of viewers around the world, is perfect for promoting and advertising the existing gaming offering.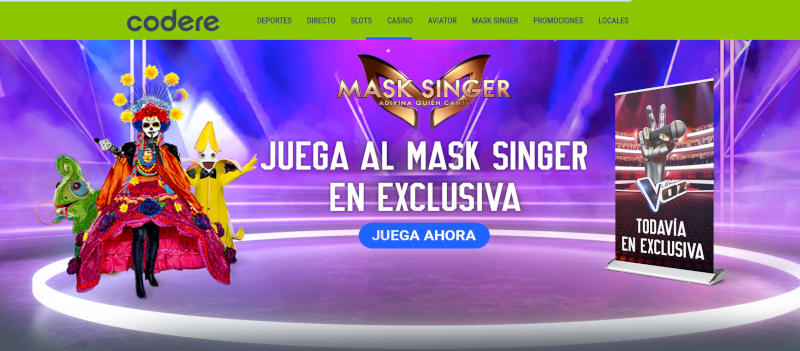 With such striking cases like the one starring Codere, MGA Games' Online Division should be celebrating. The fact that a renowned operator like Codere, led by some of the most influential executives in the industry (from Israel and Spain), has exclusively utilized Mask Singer for a period of time, is evidence of the successful work done in creating products that are currently capturing the attention of Spanish players.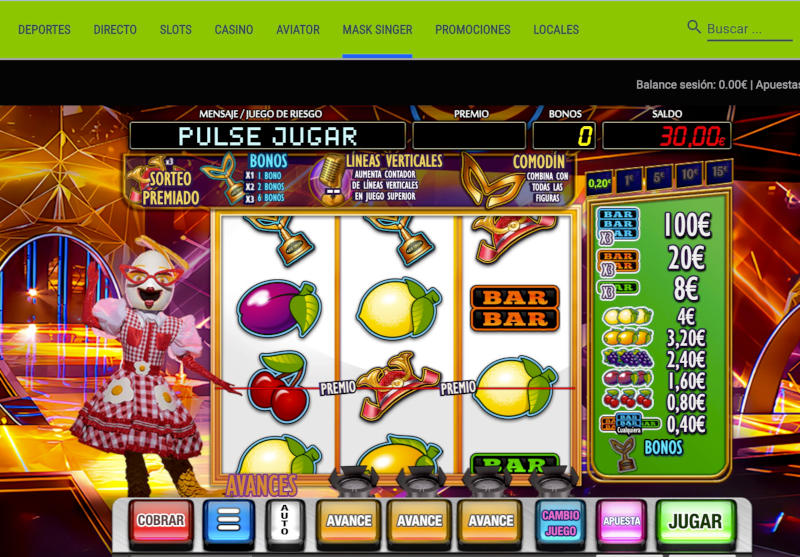 La Voz and especially Mask Singer are games that demonstrate the enormous promotion possibilities available to MGA Games' clients simply by incorporating their games into their offerings. They can, as in this case, go beyond the "Casino" or "Slots" sections and take the viewer's experience in search of genuine entertainment to the next level.
The collaboration between MGA Games and Codere, as demonstrated by the exclusive use of Mask Singer, highlights the effectiveness of MGA Games' product development strategy. By aligning their offerings with popular television shows and leveraging the fame and excitement surrounding these programs, MGA Games has managed to captivate the Spanish player base and establish themselves as a prominent player in the online gaming market.
This achievement not only speaks to the quality and appeal of MGA Games' products but also signifies their ability to adapt to the ever-changing preferences and trends of the gaming industry. As they continue to innovate and create games that resonate with players, MGA Games is well-positioned to further solidify their position in the Spanish gaming market and expand their success internationally.
18+ | Juegoseguro.es – Jugarbien.es