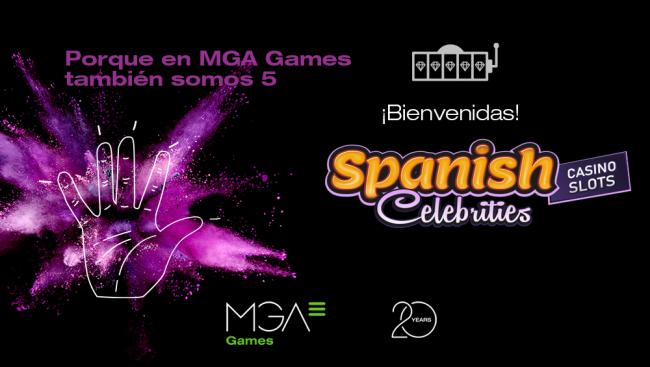 Recently the Spanish company MGA Games, specialist developers of localized slot games for global operators, has just presented its new range of 5-reel slots games called Spanish Celebrities Casino Slots.
For this presentation, the company has launched a new campaign under the slogan "Because at MGA Games we are also 5" and has sent its customers various materials focused on innovations and improvements that incorporate its 5x3 products. A safe bet with which MGA Games expects to succeed in the 5x3 slot market and become the reference content provider for casino slot games.

MGA Games has explained in a press release that, as a winning formula, the new Spanish Celebrities Casino Slots saga plays on the success of the 3-reel Spanish Celebrities games, combining a localized product with celebrity characters well known to the public and achieving incomparable results in the Spanish market.

It should be noted that the new MGA Games productions incorporate more doses of innovation with new graphic styles, exclusive music by producer Quique Tejada and totally updated visual effects. Spanish Celebrities Casino Slots also stand out for their improvements in the game sequence and their new mathematics with low, medium and high volatility that are adapted to each type of player.

For the founder and CEO of MGA Games, Joan Sanahuja: "At MGA Games we are also '5 slots'. For 20 years, we have been devising new products that entertain and excite players with their great content and prizes, but we also care about achieving maximum profitability for the operator. We have proven that our Spanish Celebrities on 3-reel Spanish slots are unrivalled when it comes to the income they generate. Now, and as we always do, we have gone one step further to offer Spanish Celebrities Casino Slots a fun, light-hearted 5-reel product and guaranteed to be profitable and successful for operators."

On the other hand, the company emphasizes that the clients of Spanish operators can now experience first-hand, the innovations offered by the Spanish Celebrities Casino Slots series, with the first game, Yola Berrocal Wild West, which launched only a few days ago.