The American Gaming Association (AGA) continues to track monthly, quarterly, and year-to-date gross gaming revenue (GGR) at a state and national level, broken down by individual gaming. verticals. Among these lines, the AGA has ensured that the combined revenue from traditional casino gaming, sports betting and iGaming reached $ 3.19 billion, which represents 15.5% less than that registered in February 2020, the last pre-pandemic month in full operation.
 AGA has reported that with three fewer days, including two fewer weekend days, February commercial gaming revenue has contracted more than 6% since January. Adjusting the calendar and comparing average daily revenue, February gaming revenue was up from the previous month by nearly 4%.
Likewise, they have highlighted that the drop in gaming revenue coincided with a 1% drop in consumer spending, the biggest driver of economic activity in the United States. In this regard, the US Department of Commerce expects this drop to be temporary, as data on restaurant visits, hotel bookings and airline travel indicate a steady pickup in spending in recent weeks.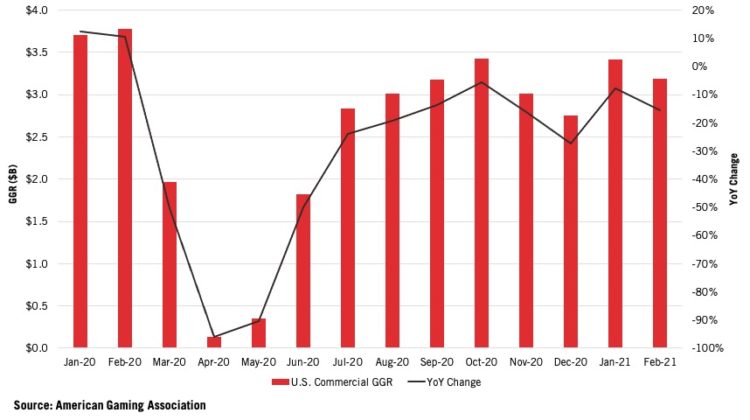 Notably, of the commercial gaming states that were operational in February 2021, six (Colorado, Michigan, New Hampshire, New Jersey, Oregon, and South Dakota) saw year-over-year growth, with gains once more being fueled predominantly by sports betting and iGaming. Helped by the easing of some pandemic restrictions, gaming revenue improved over January in nine states — Illinois, Maine, Massachusetts, Michigan, Nevada, New Mexico, Ohio, Rhode Island and Virginia — with the Virginia market having only launched on January 21.
On the other hand, during the month of February, gaming revenue from casino slot and table games reached $ 2.74 billion, 24% when compared to that registered in 2019, but less than 3% compared to January. South Dakota was the only state where traditional games exceeded pre-pandemic levels, more than 13%. The state has seen revenue grow year-over-year in every full operating month since the Deadwood casinos reopened in May 2020.
As the AGA has explained, Strong revenue growth by sports betting and iGaming again helped stabilize overall gaming revenue. In the first full month with internet gaming in Michigan, the nationwide iGaming revenue jumped 256% since last February to hit a monthly record of $ 255.5 million (€ 216.8 million). It should also be noted that sports betting revenue doubled again (128%) year-over-year to $ 196.1 million.
In addition, figures managed by the association indicate that the combined revenue from sports betting and iGaming accounted for more than 14% of all US commercial gaming revenue in February, slightly less than the 17% in January and 16% in December, but well above pre-pandemic levels.
With the end of the NFL season, February sports betting handle slumped somewhat over January, thus breaking a six-month trend of consecutive monthly records. At least $ 3.49 billion was wagered with legal bookmakers across the country, 102% more than in 2019 and 20% less than January's record of $ 4.36 billion.
18+ | Juegoseguro.es – Jugarbien.es