From left to right: Miriam Adelson, Denise Coates, Pansy Ho, Elaine Wynn and Ina Chan
 FORBES has published its famous annual ranking of the world's billionaires in which we highlight the presence of five women from the gaming industry.
At the top of the fortunes of the 5 richest women in the gaming industry is Miriam Adelson, who occupies position 36 in the ranking with $ 38.2 billion and is the widow of Sheldon Adelson, former CEO and president of Las Vegas. Sands, who died in January 2021.
Then at 404, with $ 6.5 billion is Denise Coates, owner of online gambling company bet365.
In position 665, with $ 6.5 billion is Pansy Ho, daughter of businessman Stanley Ho and who currently chairs Shun Tak Holdings and has significant interests in two of the six casino licensees in Macau.
She is followed by Elaine Wynn, who is ranked 1362 with $ 2.3 billion and is the co-founder of Mirage Resorts and Wynn Resorts with her ex-husband, Steve Wynn.
Last of this TOP 5 is Ina Chan, who is in position 2674 with a net worth of $ 1 billion and is recognized as the third wife of the late casino businessman Stanley Ho.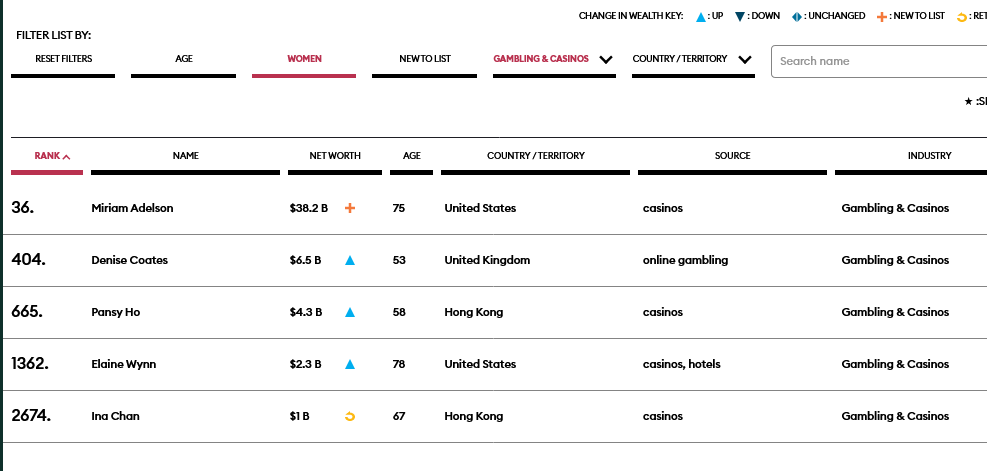 It should be noted that FORBES has calculated the net worth of this new ranking taking as reference the prices of the shares and the exchange rates of March 5, 2021
GO TO FULL LIST
18+ | Juegoseguro.es – Jugarbien.es