The strategic agenda of the main online gambling operators has been altered by the impact of Covid-19. Some verticals have managed to emerge stronger from the unexpected situation and the first half of the year has seen
virtual sports 
and
online poker operators
 achieve enormous results.
Already in the third quarter of the year, with the recovery in the supply of
sports
events, it has been the sports betting segment that has made it possible for many players on the online scene to even think about closing 2020, meeting the initial expectations of their annual accounts.
Below we focus on two poker operators that have managed -in their respective strategic objectives- to complete an optimal first three quarters of 2020 and that in both cases expect to close the year in the fourth with the launch of their new online poker platforms, something that will surely consolidate its position in 2021 and in the coming years. We are talking about
Winamax
,
888poker
and the imminent launch of their new software to replace platforms that were already almost a decade old and needed a substantial improvement beyond their usual and periodic updates.
Two announcements called to change the sector

It was
888 Holdings
who, in their presentation of results for the third quarter, announced that in addition to the expected launch of the new
888Casino
software and confirming the progress in the next new version of its sports betting platform (remember that in 2021 888 is expected to abandon finally to its strategic partner
Kambi
to already have its own platform after the acquisition of Betbright in 2018), was working to present the new platform of the vertical
888poker imminently
.
His second-in-command and top personality at the product and operations level,
Itai Pazner
said that the testing process had finished and that the launch of the new Poker8 was expected in the last quarter of the year.
Pazner
also pointed out that the new software had taken a lot of work in the last 2 years.
We can read these plans in the 
transcript of the presentation of results in English in Yahoo Finance
, where it is also noted that this new software, which will be launched almost simultaneously in all markets, may also reach the United States, where 888 together with
Caesars
, are market leaders in most regulated jurisdictions. And that despite the announcement of the American giant of its merger with
William Hill
.
Winamax
, for its part, made the announcement in another way, on the ClubPoker forum, asking users to test the beta versions of the new software (available for Mac and Windows for now) not on mobile. So in this case, even many French players have been able to see in situ and play on the new platform, confirming that the software to come is clearer, more flexible, improved in performance and with a very elaborate design.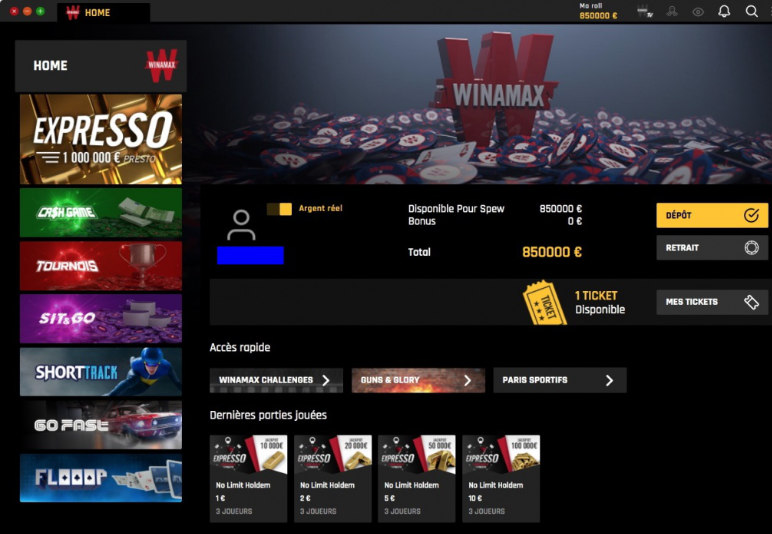 In both cases, the new platforms serve to receive 5G technology, which we will talk about soon and which will mean a real revolution for the sector in the coming months.
Much more than an update

Both in the case of
Winamax
and
888poker
, the new versions of their software, which will soon be available for both iOS and Windows devices and for mobile phones, have received excellent ratings in forums and specialized media; where for months the first results of its tests and beta versions have been made public.
Even with the scant concrete information available, it is already known that in both cases, the new platforms will present far-reaching changes, becoming totally new launches far from updates or improvements solely of an aesthetic nature. Initial reports from beta-testers suggest that we are going to see radical changes, including:
- New poker variants (such as the so-called
Flopp
in the case of
Winamax
).
- Greater integration of other verticals such as betting or casino.
- Greater specific weight of gamification functionalities as retention systems.
- Graphic entry of the tables clearer.
- New mobile applications with all the functionalities.
- Better and more varied avatar designs.
- Improvement in the possibility of playing on several tables at the same time (with the use of a "playground" as a single window where the tables that are opened in the case of Winamax can be incorporated).
- More possibilities to write down notes on opponents
- Integration of devices that offer statistical information in real time.
And it is that with a decade of life, the revolutionary
888 Poker
and
Winamax
platforms have already experienced numerous face washes and different revisions on mobile (ios and android), but now the need to innovate and the platforms that will arrive in few weeks will be totally new products.
Another key element in both cases is that they are built from a new technological approach, abandoning programming languages already old that have more potential to be hacked. Security is therefore also behind these changes, leaving aside the need when using Flash to have numerous unnecessary plugins and the constant updates that users had to download regularly.
The new platforms will make up a significant upgrade to your software and provide your players with an overall better experience that includes new graphics, animations, sound effects, and various enhancements to site functionality. However, we insist: it is not a trivial change. Even in the case of
888poker
, the new software represents a complete transformation since its last
Poker8
change announced in spring 2019 and that can be seen as an opening to what lies ahead.
Quick response to the collapse of offline poker

Why are these changes coming? First of all because it was necessary. And it is that in the fight that both operators have in their respective markets to compete with their rivals (
Winamax
has already managed to make its contribution to
PokerStars
both in Spain and France and
888poker
remains strong in European regulated markets and leads most states in USA). In such a competitive market, regular reviews are required but also releases that, in addition to a new gaming environment that generates new experiences, serves as a promotional argument.
888
and
Winamax
are expected to offer numerous welcome promotional actions. Launching a new product is a great way to reactivate players, which in internal surveys always show that the playability, design and subjective perception of the software are the main reason that leads a customer to continue playing in the room.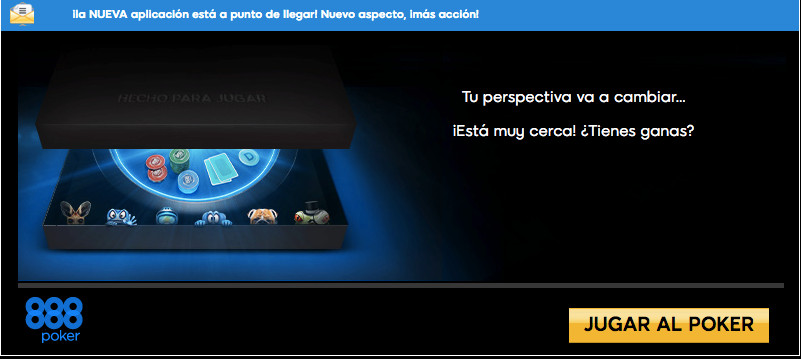 But in this case, in addition, the launch of these two new gaming environments comes at a time when the large online operators can no longer use face-to-face poker to complete their gaming offer. Without the big live events, the online tournament program has run out of qualifiers and satellites, which in the case of
888poker
Spain and
Winamax
accounted for 15% of their event offerings and 30% of their promotions.
Platforms with "poker home" option

A trend that seemed to be disappearing from 2018 and 2019 was that of private games. But at the last minute this type of game has been incorporated into the new platforms. We are talking about the functionality that allows poker players to create their own games and tournaments, restricting their entry to only friends or people with whom they have previously agreed to play poker.
And it is that after the generalized confinement of last spring, the main operators returned to incorporate this gambling option and put it in value.
Unibet
,
PokerStars
,
Partypoker
,
888
and
Winamax
announced since April important improvements and dedicated promotions to encourage that in the closing context, especially offline poker fans, they knew that online operators organize private games so that on the internet it is possible to continue to have games that are normally played at home or clubs with friends.
A fact that Google Trends has confirmed, showing how Google searches for "private poker games" (in English) multiplied by 10 during the second quarter of the year. This recent reactivation of "private games" that had been in the market for more than five years, has served so that the new software have this integrated sub-product and can become one of the strengths of these operators in the coming months.