CEUTA will be a global partner at the 5th Responsible Gaming Conference and Felipe Masa (EY) will be its representative at one of the discussion tables.
CEUTA will be our GLOBAL PARTNER in the great gaming and sports police summit that constitutes the 5th International Gambling and Sports Conference. The presentation will be called "Ceuta, Technological Hub" and will feature Felipe Masa, Director at EY, as a representative of the autonomous city.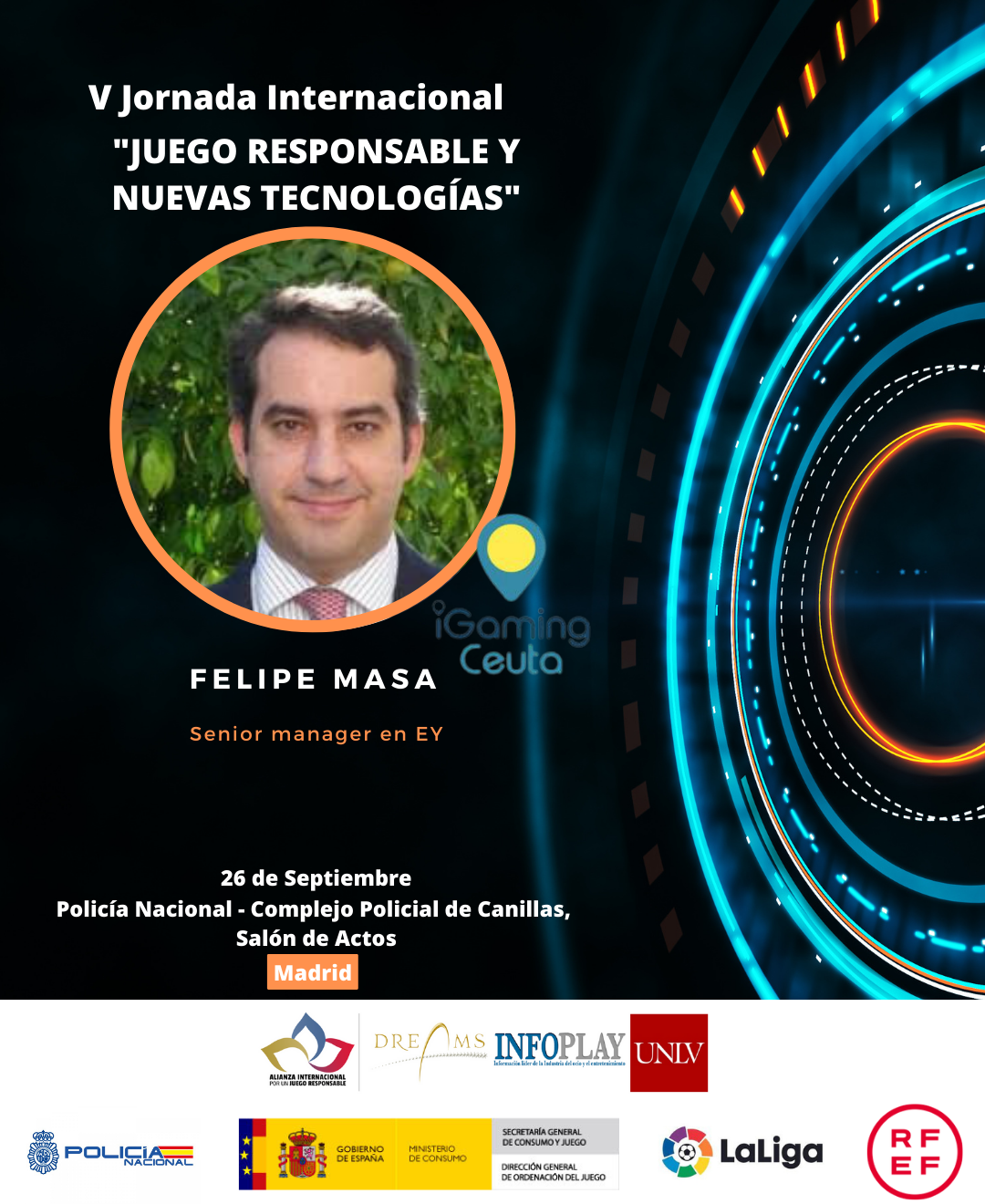 The autonomous city of CEUTA offers great advantages to technology companies beyond the gaming sector. Among them, it is undoubtedly to have become the best location for technology companies and gaming operators, making a great effort in training with personalized courses and official FP with El Ángulo, the Technological Institute in Ceuta (owned by the City of Ceuta).
All these excellences will be offered by FELIPE MASA (Director at EY) in his presentation and discussion table, in an event that will have simultaneous translation in English and Spanish.
CEUTA thus joins the great event that we celebrate on September 26th (from 09:00 a.m. to 2:00 p.m.) with the NATIONAL POLICE of Spain as the great hostess in its extraordinary Assembly Hall of the police complex in Canillas de Madrid.
It is always important to remember the enormous support of this day by the following administrations and organizations:
MINISTERIO DE CONSUMO
POLICÍA NACIONAL
POLICÍA DE ANDORRA
LaLiga
REAL FEDERACIÓN ESPAÑOLA DE FÚTBOL
INTERPOL
EUROPOL
MINISTERIO DE JUSTICIA DE BRASIL
MOSSOS D'SQUADRA
ERTZAINTZA
DIARIO AS, AS EXCLUSIVE MEDIA PARTNER
The broadcast will be carried out with simultaneous translation for those who cannot physically join us in the Assembly Hall of the complex. In other words, everyone who connects online will be able to choose to listen to the presentations and debates in Spanish or English.
The event will be presented live by the founders of the International Alliance for Responsible Gaming (UNIVERSITY OF NEVADA, DREAMS and INFOPLAY): Bo Bernhard, Mariela Huenchumilla and Jacqueline Mecinas, respectively.
The discussion tables will be moderated by Cecilia Pastor, Deputy Director General of Gaming Inspection in the General Directorate of Gaming Regulation of the Ministry of Consumer Affairs and David Calvete, head of the Gambling and Betting Control Service of the Spanish National Police.

The organization thanks all the companies that are making an effort to make visible the commitment that unites all the agents involved in responsible gaming and in a sustainable industry.
More information:
https://www.jornadasdeljuegoresponsable.com/

18+ | Juegoseguro.es – Jugarbien.es