With the Spanish national team qualified for the final and making history in the World Cup, we analyze to what extent women's sports have connected with bettors and to what extent online betting houses offer and promote sporting events in which women participate.





Women's sports have managed to break barriers and tear down stereotypes, gaining greater admiration and support from the public. Likewise, there has been an increase in quality and the level of competitiveness in many disciplines, which has generated growing interest from both fans and bettors.
Sociology explains that the rise of women's sports, the number of women who play sports or who follow sporting events, has been continuously growing since the 1970s, with school sports being where this change has been forged. The question now is whether women's sports have the potential to attract bettors, a group that according to data from the DGOJ (Analysis of the online player profile 2022) still represents a low percentage of the total players (85.87% of bettors in Spanish regulated operators are men and 14.13% are women).


Men / Women / Total Bettors - 2022 (New Registrarions in Online Bookies with license in Spain)

Despite these figures, the vast difference between men and women in terms of users of sports betting houses is narrowing both in Spain and in regulated markets in Latin America, with increases from 2020 to 2022 in the population of women betting on sports events of up to 17%, compared to a male audience that grew by just 3%.
On the occasion of the Women's World Cup, one of the sponsors (the betting house TAB New Zealand) has reported that almost 15% of the bets on matches in this competition were made by women, compared to 9% in the 2019 World Cup event.
In any case, the aim of this
SPECIAL INFOPLAY REPOR
T is not to analyze the gender gap in sports betting, but rather, given the attention the Women's World Cup 2023 is receiving, to check whether, with quantitative and qualitative data, women's sports attract bettors or not.
Betting on women's sports in 2023
In recent years, there has been an increase in betting opportunities related to women's sports. Betting houses have expanded their offerings to include female events and competitions in various sports disciplines, such as soccer, basketball, tennis, and many others. This greater diversity of options has allowed bettors to explore new possibilities and expand their horizons in the world of betting.
The two reasons that explain this progressive boom of women's sports in betting markets are:
1) The increasing professionalization and level of competitiveness of women's sports

Women's sports are experiencing greater professionalization, which implies a higher level of competition and quality in events. This evolution, which until recently only had tennis as an example of a sport capable of matching in prizes and spectacle both male and female circuits; now extends to other sports.
Increasingly, soccer, cycling, or basketball attracts more followers, and bettors show greater interest in the excitement and high-level sports performance also in the female category.
And this has resulted in their incorporation into sports betting markets.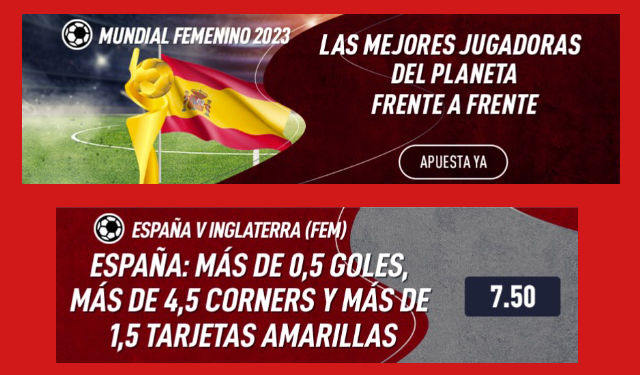 2) Greater media coverage of women's sports

Gender equity in the promotion and visualization of sports is a reality that has allowed for a closer approach to equal opportunities and visibility for women's sports compared to men's sports. This implies greater media presence, promotion, and support for female athletes.
Indeed, this not only increases the base of fans and followers but also attracts new sponsors interested in supporting women's sports.
A current fact in this regard is provided by the Tour de France, whose 2023 women's edition has broken audience records and already surpasses numerous broadcasts of one-week men's category races (see news in Sport) both in Spain and France.
Another example comes from the United States, where the WNBA has grown by 67% in audiences and 25% in revenue in 2023, making basketball the most followed team sport of the year, surpassing soccer. In fact, in an event so related to men's sports like the "March Madness" of North American college basketball, in 2022 it had its female version, and the competition's final was watched by 4.85 million people, becoming the most-watched women's basketball game in history.
Thus, although as we have already seen, we cannot say that there is a significant increase in the number of female bettors. We do confirm that the number of women's sports events in betting houses is increasing. However, the hegemony of men's sports means that for now, bets on women's sports are concentrated in competitions like the current World Cup, which also coincides with a smaller offer from traditionally more active markets.
The World Cup as a turning point?
Two days before the Women's World Cup final between England and Spain, the Entain group (owner of brands such as Bwin, Ladbrokes, or Eurobet) released a press note stating that during the first three weeks of the World Cup, there has been exponential growth in bets for the Women's World Cup worldwide. Although with special emphasis in the United Kingdom, where an average of 21% of the bets placed in England's first three games are made by women, compared to 17% in the Women's Euro 2022 and 13% in the Women's World Cup 2019.
The Women's World Cup has also increased betting in host countries: in New Zealand, there is a 365% increase in the number of bets placed this year, even after the local team was eliminated in the group stage. In Australia, the increase was almost 200%, driven by the success of the Matildas team in the knockout phase.
In the United States, the poor performance of the women's team (current champions, but this time eliminated in the round of 16) has limited the increase in fan support. In any case, in the opening match of the U.S. women's team against Vietnam, the operator BetMGM recorded three times more bets than on Lionel Messi's debut for Inter Miami CF.
Entain also claims that women's soccer leads in the number of people betting on women's sports, with an annual growth of approximately 20% since 2020.
But beyond soccer and the data provided by operators, this trend is confirmed from the United States with data from the operator FanDuel, which has reported that in the 2022 season of the WNBA (the female version of the NBA basketball) up to 22 regular-season games generated more than 1 million dollars in bet amounts. From 2017 to 2021, only 7 games in total had exceeded that amount.
Still much to do
Despite all the milestones mentioned in the previous sections, women's sports still have a long way to go in the betting sector. The characteristics and peculiarities of sports betting continue to leave women's sports in the background.
The reasons that could explain this reality, based on the opinions gathered by InfoPlay, would be:
1) The current situation in terms of information and content means that there is a greater difficulty in getting to know the protagonists of women's sports. Having knowledge about the teams and players before placing a bet is equally important in a male or female event, and the greater media coverage makes it so that there isn't as much information about female athletes and teams.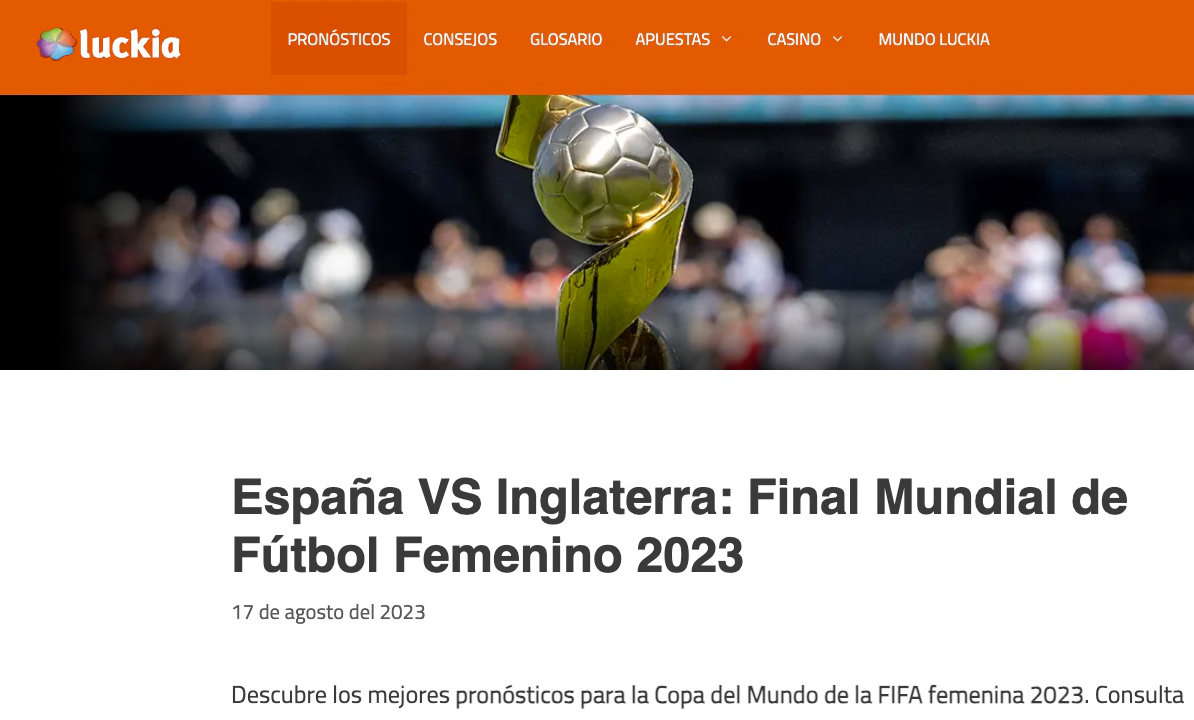 Los
2) Greater disparity and variability of odds. It is evident that in women's sports, the odds can vary considerably compared to men's. Mainly due to the lower volume of bets.
3) Economic problems and poorer competitive status of women's leagues and competitions. As in other sports, some leagues or competitions may be more competitive than others. And generally, women's sports still have shortcomings, and professionalism in countries like Spain has only recently reached competitions like the First Division of Spanish football.
4) Even though all kinds of companies (including sports betting houses) generate a significant flow of income for women's sports; the current restrictive framework for gambling advertising means that even if they wanted to, betting houses cannot sponsor teams, competitions, and women's sports events. This directly limits the quality of infrastructure, training programs, and the professionalization of athletes, something that has not occurred in men's sports for more than two decades.
Thus, restrictions on advertising and commercial communications have come at the worst time for the benefit of women's sports.
In any case, in other sectors, brands and companies are recognizing the potential of women's sports as an effective marketing platform.
Precisely because of the limited economic level of women's sports competitions, match-fixing represents a serious threat that can have devastating consequences at the level of sports betting. These corrupt practices undermine the integrity of the competitions and harm both athletes and fans.
Google makes it clear
Using tools that analyze searches made on Google, we find that almost all keywords related to women's soccer are about practical information on competitions or specific women's soccer teams (mainly FC Barcelona). However, people who searched for topics related to women's soccer did not include terms like "bets", "forecasts", or "tips".
Another important piece of data is that there is hardly any investment in Google ads. We can see how only three of all the related keywords have been paid for, with their cost per click (money that websites are willing to pay to appear in the top position for searches related to women's soccer) always being less than one euro.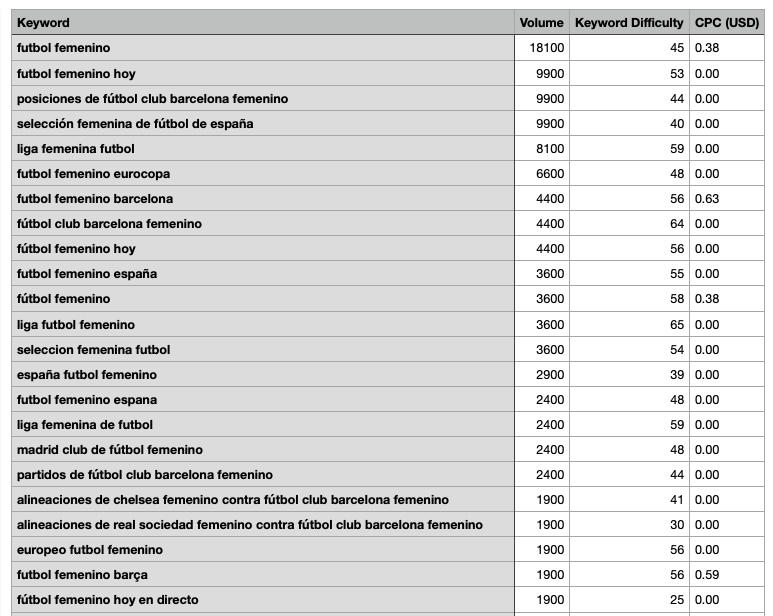 In this way, although there are variations and searches like "women's soccer", "women's soccer today", "FC Barcelona women's soccer standings", or "Spain's women's national soccer team" with a high search volume, there are no advertisers paying for clicks on ads for these keywords.
TO SUM UP
Women's sports are growing, in practitioners and recognition. But as of today, it is very difficult for it to bridge the existing gap in betting. Not even sports like women's tennis have achieved this after years of milestones.
So, even though women's sports have gained significant relevance in the realm of sports betting, the professionalization of female athletes and the increased visibility of women's competitions do not guarantee they can compete since, in terms of betting, we are still in an early phase. Bets on women's sports represent only a small percentage of total sports bets. The mistaken perception that women's sports are less competitive than men's can influence the decision to bet, as people might believe there is greater uncertainty in the outcomes.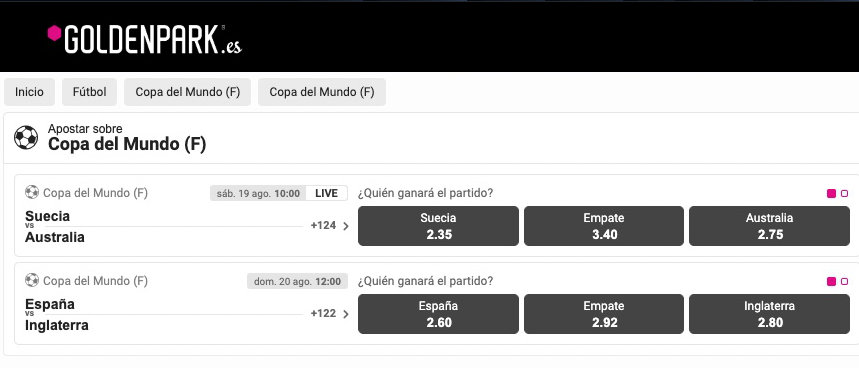 While inequalities in economic rewards are being addressed, there is still a gap, and this can influence the perceived value of betting on women's sports.
Women's sports have come a long way in terms of participation and popularity. However, in the realm of sports betting, there is still a long way to go to achieve equitable representation in the betting world.
18+ | Juegoseguro.es – Jugarbien.es