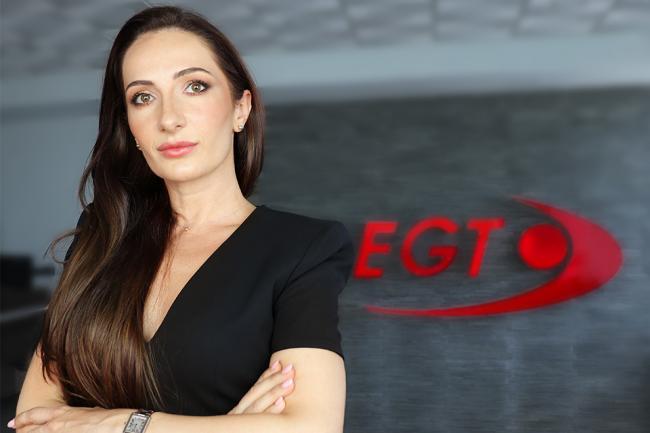 Euro Games Technology (EGT) has announced that Nadia Popova will assume the position of Chief Revenue Officer and Vice President of Sales and Marketing at Euro Games Technology from February 2021. More specifically, she will be responsible for the revenue generation processes, driving better integration and alignment between all earnings-related functions, including marketing, sales, customer success and revenue management for the business verticals of EGT
EGT has highlighted in a press release that Nadia Popova has been part of its team for 10 years, beginning her carrier at the company in 2011 as Sales Manager and reaching the position of Director of North and Central America, the Caribbean, Chile and Colombia . On her previous role of her she founded several of the international EGT offices in the region, establishing their local teams of professionals, successfully managing their business development strategies and building their reputation of well-known and trustworthy partners for the LATAM market.

Nadia Popova is confident that EGT will overcome the strengthened global crisis and commented: "Nowadays, especially in the current world pandemic situation, the effective revenue generation is based on a more holistic approach, which involves the entire management team of the company".

On the other hand, she states that companies that create a perfect customer journey are more likely to increase their market share and assures that EGT "company is not only a supplier, but a trusted partner in our customer's journey."

It should be noted that EGT offers a diverse catalog of casino products: slots, multiplayer terminals, casino management system, online gaming and it recently launched its complete platform, covering more market verticals, such as sports betting, live casino, e-games content from many third-party providers.

Nadia Popova made a balance that served as the basis for her future projections and explained: "Many of EGT's clients need to transition part of their investments online, so we are glad to offer them the complete solution. As for the land-based business - we are planning our next strategic steps, according to the market openings. Our multiplayer terminals were a great success in Asia and having in mind that the region is expected to be one of the first to recover, we will focus on strengthening our local positions. We are also going to launch a new line of jackpots in North America, LATAM and Europe and our AWP and VLT divisions are making strong progress in developing more products for the route markets in Europe and South Africa."

According to EGT, the company will continue its course towards digitalization and the implementation of highly effective management practices that will enforce the company's focus on its strengths. The role of Nadia Popova will also be central for the continuous emphasis on the market specifics and customers' needs, as a central path to success of EGT.

On this appointment, Vladimir Dokov, executive director of EGT, highlighted Popova's experience in the industry and ratified the trust; "I am confident that her business acumen from her, her wide experience and inner drive will be a winning combination for EGT and for all gaming operators that trust our company."