Las Vegas, Madrid and Santiago de Chile, June 10, 2021.-
The International Alliance for Responsible Gaming is pleased to inform the public about the call for the First International Workshop against Illegal Gaming that will be held online for free on the 22nd June at 4:00 p.m. in Spain, 10:00 a.m. in Chile and 7:00 a.m. in Las Vegas. This is a multilateral meeting where relevant aspects of illegal gaming and ways to combat it will be shared.
The INTERNATIONAL Alliance for RESPONSIBLE GAMING arises to put together a global roadmap for responsible gaming and leisure, in order to achieve a sustainable industry. To do this, we will address all the edges that damage the good perception of this responsible activity by public opinion.
Therefore, we have the honor to inform you that, in this First International Workshop, we will address the problem of Illegal Gaming that, clearly, has emerged with more virulence during the restrictions due to the pandemic or derived from some severe legislation that has led to the clandestine activity. These will be the subjects that we will study with the help of illustrious collaborations.
The INTERNATIONAL Alliance for Responsible Gaming was born from the union and concerns of three well differentiated industry players: the academic (hand in hand with the University of Nevada), the informative (through the specialized medium, INFOPLAY) and the business ( with the experience of DREAMS).
With this important push we begin. And we continue to add relevant actors to make this ALLIANCE increasingly transversal and global.
The First Day Against Illegal Gaming will be held online on June 22nd at 10:00 a.m. m. time in Santiago de Chile, at 4:00 p.m. in Spain and at 07.00 a. m. In Las Vegas.
The shared experience will help us to better understand our activity on a global scale and the challenges that we must face with the best tools and under the prism of reflection and experience.
This First Workshop against illegal gaming is supported by the institutional support of the following organizations (in alphabetical order):
CORNAZAR: National Business Corporation of Gaming - Colombia

Responsible Gaming Corporation - Chile

Basque government

Ministry of Commerce and Interior of Peru

Mossos d'Esquadra. Catalonia

Chilean Investigative Police (dependent on the Ministry of Interior)

Foral Police of Navarra

University of Nevada

National Police of Spain through the Gaming and Betting Control Service



The Conference will be moderated by the three names that make up the same ALLIANCE:
Bo Bernhard,
Professor and Executive Director of the International Gaming Institute at the University of Nevada, Las Vegas, Nevada
Mariela Huenchumilla
, Responsible Gaming Manager Dreams Latam and President of the Responsible Gaming Corporation
Jacqueline Mecinas
, Editor and Director of INFOPLAY and INFOPLAY INTERNATIONAL and creator of the RESPONSIBLE GAMING AWARDS in April 2017.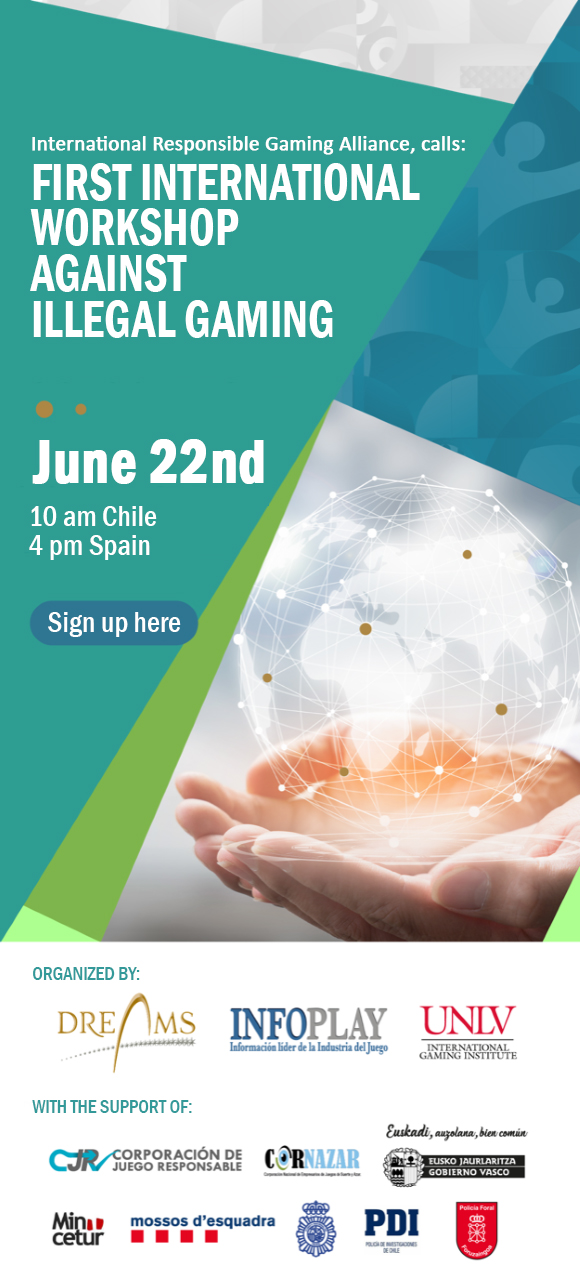 18+ | Juegoseguro.es – Jugarbien.es