Evolution wrapped-up a strong financial year 2022 with a very good fourth quarter. This despite the challenging market environment reflected in the war in Ukraine, rising inflation, lower consumer confidence and remaining COVID-effects on supply chains. 
 Revenues in the fourth quarter of 2022 amounted to EUR 407.5 million, an increase of 35.7 percent compared to last year. EBITDA amounted to EUR 279.5 million, corresponding to a margin of 68.6 percent in the fourth quarter. Full year EBITDA margin was 69.2 percent, this is at the lower end of our guidance of 69-71 percent. In the very challenging market conditions of 2022, 69.2 percent margin reflects the competitive offering and strog execution during the past year. 
In the quarter, top-line growth continued to be driven by strong demand for Live Casino. Live Casino revenue increased by 41.1 percent year-on-year, which is very strong. 
With a strong fourth quarter, with many new titles including Live games such as Dead or Alive Saloon, Football Studio Dice and Freebet Blackjack together with RNG games such as Cupcakes from NetEnt, Christmas Bonanza from BTG, Shadow Society from RedTiger and Dead Canary from Nolimit City, Evolution delivered on the 2022 target of 88 new game releases. 
"For 2023 we plan to release over 100 games. Some of the highlights will be presented at the ICE trade show next week, among the games showcased will be our biggest, most complex game show ever. This release takes the player experience yet again to a completely new level. I am very excited about this release and hope that this fantastic game will get players full attention and also attract new players outside the current definition of Online Casino", said CEO Martin Carlesund.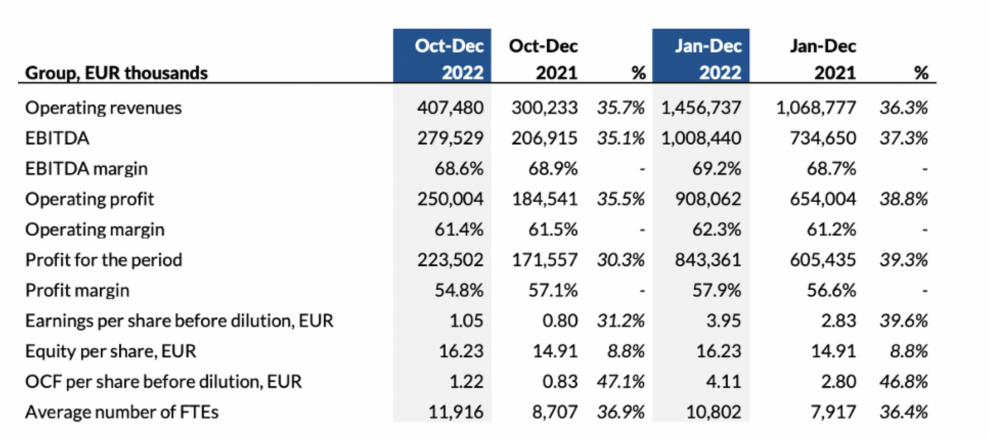 https://ir.financialhearings.com/evolution-gaming-group-q4-2022
18+ | Juegoseguro.es – Jugarbien.es